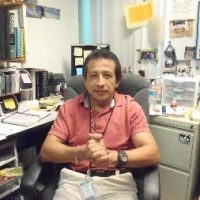 Jorge Alfredo Herrera Silveira
Jorge Herrera-Silveira is a biologist. During his academic career, he has dedicated himself to investigating the processes related to the temporal and spatial variability of the structure and function of tropical ecosystems, especially mangroves. He is currently a Senior Researcher at CINVESTAV-Mérida, is a member of the Mexican Academy of Sciences, Scientific Coordinator of the Mexican Carbon Program, as well as coordinator of coastal observatories of the National Coastal Resilience Laboratory (LANRESC). He participates in the scientific working group of the "Blue Carbon Initiative" of the IUCN. In recognition of his work, Professor Herrera-Silveira has received recognition from the Mexican government (SEMARNAT), civil society organizations (PRONATURA) for his leadership and contributions to knowledge, protection and restoration of coastal wetlands, and by the "Estuarine Research Federation" of the USA for his leadership in tropical and subtropical coastal wetland research.
What is her role in CORESCAM?
At CORESCAM, he coordinates spatial analysis, and spatial and "in situ" monitoring of the effects of extreme events on the forest structure and functions of mangroves, and bird biodiversity in the Yucatan Peninsula.
Get to know her projects and publications