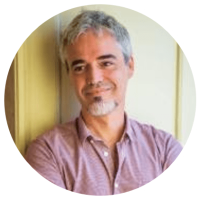 Miguel Bastos Araújo is a biogeographer. Much of his career has been devoted to researching how changes in climate affect biodiversity. He is currently Research Professor of the Higher Council for Scientific Research (CSIC) at the National Museum of Natural Sciences of Madrid (MNCN) where he also serves as deputy director of Scientific and Professional Training. He is also visiting professor (Chair of Biodiversity) at the University of Évora, while holding an honorary position at Imperial College London. In recognition of his work, Professor Araújo has won several prestigious awards, including: the Ernst Haeckel Award (2019), the National (Portuguese) Award for the Environment "Fernando Pereira" (2019), the Pessoa Award (2018) and the honorary membership of the College of Biologists of Portugal (2020), an honor awarded for the first time to a non-biologist.


What is his role in CORESCAM?
Miguel leads the project and contributes studies of the effects of climate change on biodiversity. His team develops models that can predict how the distribution of species will change in the face of Global Change.
Get to know his projects and publications