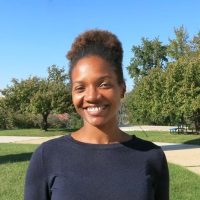 Dr. Lola Fatoyinbo is a Research Physical Scientist in the Biospheric Sciences Lab at NASA GSFC where she studies forest ecology and ecosystem structure. She received her Doctorate in Environmental sciences with a focus on mangrove forest ecology at the University of Virginia and completed a NASA Postdoctoral Program fellowship at the Caltech-Jet Propulsion Laboratory. In 2010, Dr. Fatoyinbo joined Goddard's Biospheric Sciences Laboratory where her research is focused on characterizing the vulnerability and response of coastal ecosystems to disturbances from land use and climate change; LiDAR and SAR remote sensing of upland and coastal ecosystem structure and carbon stocks; Using science to support the UN Sustainable Development Goals and Conservation; new instrument and new technology development, airborne and field campaigns, applications of carbon monitoring and ecosystem services accounting. She is also involved in science communication and training the next generation of scientist. In 2012 she was the recipient of the Presidential Early Career Award in Science and Engineering for her efforts on merging scientific priorities with advanced technology to develop innovative remote-sensing instrumentation for carbon-cycle and ecosystems science.
What is our role in CORESCAM?
Evaluates meteorological data from NASA's MERRA-2 archive and hyperspectral images from DESIS and PRISMA.
Get to know his projects and publications