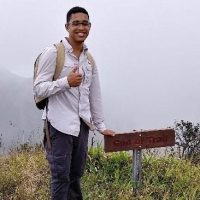 Alberto Carlos Cruz Mendoza is an ecology student. Much of his career has been devoted to researching how disturbances, like hurricanes, affect population and community dynamics of birds, reptiles, and amphibians. He is currently a masters in sciences student in the Environmental Sciences Department at the University of Puerto Rico Rio Piedras Campus. He is currently working on his thesis, which seeks to identify the characteristics that determine the distribution and abundance of the Pearly-eyed Thrasher (Margarops fuscatus) before and after Hurricanes Irma and Maria. He has also collaborated in population projects of the Red-footed Booby (Sula sula) colonies on Mona Island, with colleagues from Pennsylvania State University.
What is his role in CORESCAM?
At CORESCAM he performs impact modelling of Hurricanes Maria and Irma on bird communities in El Yunque National Forest, understanding how these disturbances affect the distribution of birds now and how they will do so in the future.
Get to Know his projects and publications
Post-Hurricane Habitat Use of Pearly-eyed Thrasher (Margarops fuscatus) at Local & Landscape Scale Using Image-Based and Spatial Analysis. Manuscript in progress
Effect of Hurricane Maria & Irma on Abundances and Distribution of Pearly-eyed Thrasher (Margarops fuscatus) in the Luquillo Experimental Forest, Puerto Rico. Manuscript in progress 
ANOLIS EVERMANNI (Puerto Rican emerald anole). SAP FEEDING. Herpetological Review.
ANOLIS PONCENSIS (Ponce small-fanned anole). SEXUAL BEHAVIOR. Herpetological Review.