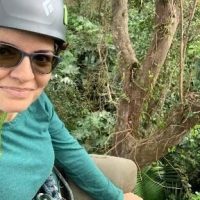 Laura L. Fidalgo-De Souza
Biologist and environmental manager, Laura L Fidalgo-De Souza have offered support and advice to non-profit organizations in environmental assessment projects and citizen science programs. In 2018, as part of her work, she was the coordinator of the Puerto Rico Water Quality Monitoring Day and A Toda Costa Program, for the San Juan Bay Estuary Program and Scuba Dogs Society respectively. She is currently completing a doctoral degree in the Department of Environmental Sciences at the University of Puerto Rico, Río Piedras. Her dissertation research was developed in El Yunque National Forest, titled "The effects of hurricanes Irma and María on the bird community and the habitat use of the Elfin-woods warbler (Setophaga angelae) in the Luquillo Experimental Forest". As voluntary work, she is currently directing the Scientific Committee of the Puerto Rican Ornithological Society, Inc. (SOPI), where she has developed proposals and coordinated projects for the monitoring of bird populations and conservation of important bird areas (IBAs) across Puerto Rico.
What is her role in CORESCAM?
At CORESCAM she performs impact modelling of Hurricanes Maria and Irma on bird communities in El Yunque National Forest, understanding how these disturbances affect the distribution of birds now and how they will do so in the future.
Get to know her projects and publications
Puerto Rico post-hurricane beach erosion spatial assessment. University of Puerto Rico (UPR), Río Piedras Campus, Puerto Rico. Supervisor: Maritza Barreto, PhD, Full faculty, Graduate School of Planning.
High School science project mentorship: Manatí and Río Piedras water quality assessment using macroinvertebrates and coliform indicators. University High School, Río Piedras, Puerto Rico. Using the spectral signature of guano to identify cattle egrets' colonies in tropical environments.  Supervisor: Maritza Barreto, PhD, UPR, Río Piedras & Roy Armstrong, PhD, UPR, Mayaguez.
Natural and technological risks assessment of Juana Matos community, Cataño, PR.  Supervisor: Maritza Barreto, PhD & Jenniffer Santos, PhD, UPR.
Primate behavior research assistant project: Social physiology of nulliparous and primiparous rhesus female monkeys. Supervisor: Adaris Mas, PhD, UPR, Río Piedras.
Mycorrhizae Fungi and Rhizoctonia Morphology research assistant. Supervisor: Joel Tupac, PhD, UPR, Río Piedras.
Fidalgo De Souza, L. L. & Bauzá-Ortega, J. F. (2013). Composición de aves acuáticas de la laguna Secreta en la ciénaga las Cucharillas, Cataño. "Waterbirds community composition of Secreta Lagoon in Cataño, Puerto Rico". Perspectivas en Asuntos Ambientales, 2(1), 67-81.